Yotam Ottolenghi's recipes for cooking with summer fruit | Summer food and drink
Qhere's only one thing I love more than eating summer fruit, and that's cooking with it. When it's perfectly ripe, it brings so much to the table: color, succulence, sweetness. Berries are perfect for being used just as they are, in all sorts of salads or in a salsa to pair with rich things such as creamy cheese or rich, red meat. Larger stone fruit such as peaches, meanwhile, often need a bit of help to show off their full glory, but that's nothing a bit of roasting or grilling won't tease out.
Cucumber and berry salad with urfa and sesame (pictured top)
This quick, refreshing salad is all I really want to eat – and "cook" – on a hot summer's day. I've used seasonal summer berries here, but by all means swap them out for some stone fruit, if you prefer. Eat with a spoon, so you can wipe all the dressing.
Prep 15 min
Assembly 10 min
Serves 2-4
1 cucumber (250g), peeled and cut into rough chunks
½ small red onionpeeled, halved and thinly sliced ​​(40g net)
150g of strawberrieshulled and halved, or quartered, if large
65g raspberries
45ml olive oil
¼ tsp toasted sesame oilplus ¼ tsp extra to serve
3 tbsp freshly squeezed lemon juice (from 1-2 lemons)
1 tbsp maple syrup
Flaked sea salt
20g rockets
¼ tsp urfa chilli
1 tsp sesame seedstoasted
Put the cucumber, onion, berries, both oils, lemon juice, maple syrup and a teaspoon of flaked salt in a large bowl, toss gently to combine, then leave to macerate for three to five minutes.
Transfer the cucumber mixture to a lipped platter, leaving one tablespoon of the dressing behind in the bowl. Put the rocket in the bowl, stir to coat with the dressing, then scatter on top of the cucumber and berry salad. Sprinkle over the remaining quarter-teaspoon of sesame oil, the urfa, sesame seeds and a good pinch of flaked salt, and serve.
Roast pork tenderloin with cherry and chipotle salsa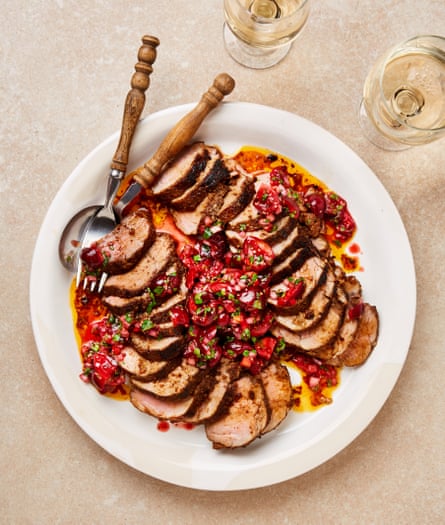 Plump, in-season cherries make a glorious salsa that works wonderfully with spiced pork. If you like, make this an even quicker midweek meal by swapping the loin for some chops.
Prep 25 min
Marinate 20min+
Cook 25 min
For the spiced pork
½ tsp ground allspice
1 tsp smoked paprika
1 tsp garlic powder
¼ tsp caster sugar
Fine sea salt and black pepper
1 pork tenderloin (about 500g) trimmed of any excess sinew, then cut in half widthways
2 tsp sunflower oil
25g unsalted butter
For the cherry salsa
250g cherriesstoned and roughly chopped (225g)
¼ tsp caster sugar
1 tsp whole grain mustard
¼ tsp chipotle flakes
1 banana shallot (40g), peeled and finely chopped
1 red chili (10g), stem removed, then finely chopped (if you prefer less heat, remove and discard the seeds and pith)
2 tbsp lime juice (from 1-2 limes)
10g fresh corianderroughly chopped
First, marinate the pork. In a small bowl, combine all the spices with the sugar and half a teaspoon of salt, rub the mix evenly all over both pieces of pork, then leave to marinate at room temperature for 20 minutes (or in the fridge overnight).
Mix all the salsa ingredients in a small bowl with an eighth of a teaspoon of salt and set aside.
Heat the oven to 200C (180C fan)/390F/gas 6, and put a large, ovenproof frying pan on high heat. Once it's hot, pour in the sunflower oil, then sear the pork on all sides for six minutes in total. Add the butter to the pan, then baste the pork with the melted butter until it's foamy and caramelised. Transfer the pan to the oven for five minutes, turning over the pieces of pork once halfway, then remove, cover with foil and leave to rest for eight to 10 minutes. (If you prefer your meat medium to well done, leave it in the oven for another minute or two).
Cut the pork into ½ cm-wide slices, arrange these on a lipped platter, then spoon over the butter from the pan and a third of the cherry salsa. Serve with the rest of the salsa in a bowl on the side.
Roast peaches with fennel croissant wafers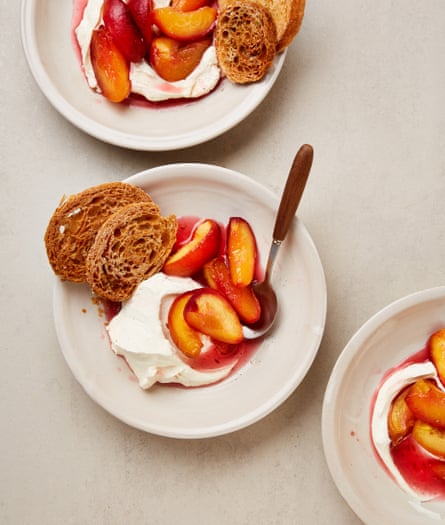 A beautifully ripe and perfumed peach is a standalone dessert in its own right, but when you have not-quite-ripe (or not-quite-unripe) ones, I roast them to help bring out their sweetness. The croissant wafers I serve with them here are a fun way to use up stale croissants. If you like, make them the day before and store in an airtight container to keep their crispness.
Prep 25 min
Freeze 20-30 min
Cook 30 min
Serves 4
4-5 peaches (400g), stoned and cut into quarters or sixths
70g caster sugar
⅛ tsp flaked sea salt
100ml rosé or white wine
1¼ tsp fennel seedslightly ground
2 sprigs of fresh basil
1 vanilla podsplit in half lengthways and the seeds scraped out (reserve the empty pod)
1 lime, zested with a vegetable peeler
For the croissant wafers
2 stale croissantsfrozen for 15-20 minutes, to help with cutting
30g caster sugar
For the yoghurt cream
120g double cream
120g Greek yogurt
Heat the oven to 240C (220C fan)/475F/gas 9. Put all the peach pieces in a medium oven tray with the sugar, salt, wine, a quarter-teaspoon of fennel seeds, the basil, vanilla pod and lime zest, roast for 15 to 20 minutes, until the fruit starts to brown at the ends and the liquid in the tray is bubbling, then remove and set aside.
Turn down the oven to 200C (180C fan)/390F/gas 6. With a serrated knife, cut off and discard the pointy ends of each croissant, then cut the rest widthways into 1cm-thick slices. Put the sugar in a small, shallow bowl, dip in both sides of the croissant slices, to coat, then arrange on a baking tray lined with greaseproof paper. Sprinkle the remaining teaspoons of fennel on top, lay another sheet of greaseproof paper and a second baking tray on top, then bake for six to seven minutes, until golden and crisp. Remove and put on a rack to cool.
Meanwhile, make the yogurt cream. Whisk the cream to soft peaks that retain their shape, then fold in the vanilla seeds and yogurt. Cover and refrigerate until needed.
Divide the yogurt cream between four bowls and spoon the peaches on top, followed by their pan juices. Serve each portion with two or three croissant wafers side by side.